LATKE DANCE is a brand-new klez-beat tune co-written by Jerusha and Rick Arnoldi (original lyrics and vocals by Jerusha; guitars and beats by Rick) The song spotlights sizzling solos by living klezmer legend Alicia Svigals.

LATKE DANCE is dedicated to the memory of wonderful Aunt Jean aka Khyene-Shifre Korim Shultz (1910-2012).

100% of profits support the courageous work Rabbis for Human RIghts do in Israel and Palestine.

Jerusha debuted the acoustic version on-stage at WHAT theater's Yuel for Fuel sold-out show on Saturday, Dec. 8, 2012, the first night of Hanukka, accompanied by Arnoldi, two dancers disguised as glittering dreydls, and an enthusiastic full house clapping along. The klez-beat recorded version of LATKE DANCE was featured over the week-end by community radio DJ's from Vancouver to Cape Cod. "Alicia couldn't make the stage debut, but she gave us her performance as a Khanike present. How cool is that?"
atmosphere by jerusha
-
See the Video by Clicking Here
turn toward peace by jerusha
slow turn by jerusha
"sublime...original...lyrical...beautiful" -- Cape Cod Times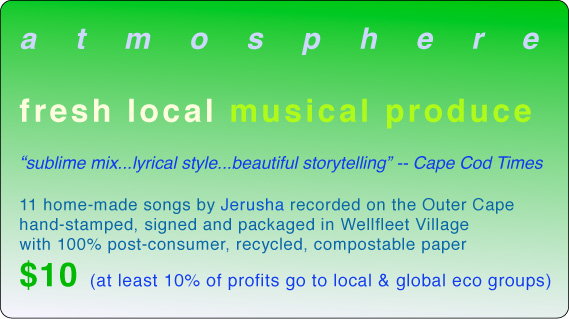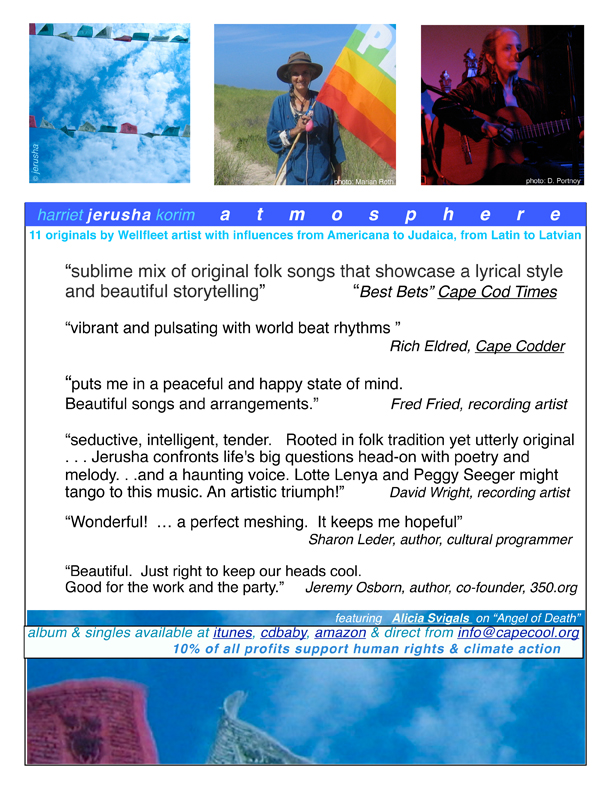 webdesign:
PluharCreative